Our Mission
To encourage the use of the Waurika Public
Library through actively promoting the
resources and programs offered and help
grow a stronger community through the
knowledge and enrichment fostered by
reading.
Become a member of FRIENDS today!
FRIENDS is a volunteer organization made up of
members of the community who recognize that
the value of life in a community is enhanced by
a quality library system. The FRIENDS
commitment is to help the Waurika Public
Library attain and maintain this level of
excellence for the people of Waurika and
Jefferson County.
FRIENDS provides valuable community support
and public relations for the library system.
In the past, FRIENDS has assisted the library in
winning approval for many grants, including
being awarded the Make More Happen grant,
enabling us to help fund many programs and
projects for the library and the community.
Please reach out to any FRIENDS member for
more information and find out how you can be
a part of this great organization.
Support FRIENDS just by shopping!
You can help support the Waurika Public Library every time you shop with Amazon.  Click here to login with your Amazon account and .5% of your purchases will be automatically donated to the Friends of the Waurika Public Library at no additional cost to you.
You can help programs like Summer Reading, every time you shop!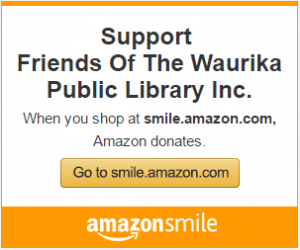 https://smile.amazon.com/ch/80-0811372

Download the 2016 FRIENDS Brochure by clicking here.

Join our FRIENDS Facebook page!
https://www.facebook.com/groups/WaurikaPublicLibraryFRIENDS/